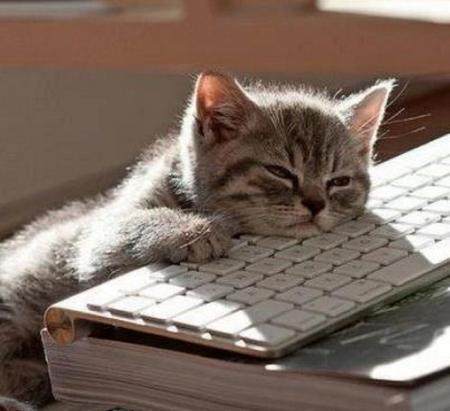 I've been feeling unusually exhausted lately. Like I wake up, get the cats fed, get my son fed, get him off to summer camp, and start thinking about what I've got going on in my day, and by nine o'clock I'm ready to go back to bed.
I know that my intense exhaustion has to do with the unprecedented (for me) amount of stress I'm under. What kind of stress, you say? Well, here's a snapshot:
A Noble Deception is coming out tomorrow, and I'm knee deep in contacting bloggers and book reviewers, and preparing promo pieces

A Noble Treason was due a week ago, but my editor has allowed me a brief extension so that I can turn in a manuscript I'm happy with instead of on I rushed to meet a deadline (she's so great!)
I have overdue book reviews for Coffee Time Romance and More, and Indie Author Feature applications to review and related promo to organize
I'm struggling to write my own blog posts and schedule my tweets with some degree of regularity (which I'm failing miserably at)
As a freelance content writer I've just had four 1,200 word articles due that I worked all weekend to complete, and an entire, integrated social media marketing campaign to run for a client (including blogging)
Oy vey! And this is just my writing career. There's nothing in that snapshot of everything else I've got going on in my life right now (which is no small list, I can assure you).
We all know that stress can cause fatigue. There are well-documented studies proving it. Unfortunately, I'm one of those people that's more inclined to say, "It's all in your head, Veronica. You're just being lazy!" I'm pretty hard on myself.
This morning I was browsing for new articles on writing, and I came across this one: 7 Writers Share What They Love (and Hate) Most About Their Jobs. As I was reading through the list, I recognized each and every one of these authors' points in myself, but it was freelance blogger and editor Kelly Gurnett's response that I most identified with. She said:
It can be exhausting to have a job that relies so much on your own creativity. There are plenty of days where I wish I worked in a widget factory and I could just show up, turn off my brain and do rote work that doesn't require me to be on my game at all times. I also hate the fact that so much of my mental and emotional energy goes towards client work each day, because I have my own writing projects, [like] my blog [and] a book I'm writing, that I wish I could devote more time towards, but at the end of the day, I'm usually tapped out.
Well if that doesn't sum up how I've been feeling lately, then I don't know what does. It really is exhausting to have a job that relies so much on your own creativity – I've never thought about it like that, but it's true. Finding that first hook paragraph over and over again for an endless series of articles, maintaining enthusiasm when you're interviewing people when all you want to do is crawl under the covers and put Downton Abbey on, forging your way through your manuscript even though your brain has turned to mush and you shudder to think how many cliches your first draft has, emailing blogger after blogger to establish just a bit of promo …
I'm exhausting myself just thinking about it.
I have no words of wisdom with this post, by the way. I just needed a space to vent. What about you? Are you a writer? Have you experienced this colossal sense of exhaustion with your writing career? Tell me about it. Please! Misery loves company, and I need to know I'm not alone in this!